Worshop | Intro to Sewing 2-Day
October 26, 2022 @ 6:30 pm

-

8:30 pm

$100
In this 2-Day Workshop you will learn the fundamentals of sewing that you need for everyday life. The workshop has been broken up into 2 sessions covering 6 skills used in sewing and mending garments.
Students must be able to attend both sessions! REGISTER HERE
October 26th, 6:30pm – 8:30pm
November 2nd, 6:30pm – 8:30pm
Session 1 | October 26th- Sewing by Hand
1- How to thread a needle & sew a straight line
2- How to sew a button with holes and with a shank
3- How to shorten & hem by hand
Session 2 | November 2nd – Sewing with Sewing Machine
4- How to thread & use a sewing machine
5- What stitches are used for on sewing machine & sizes
6- How to mend a tear in clothes
7*- Bonus skill: Hand Embroidery for embellishment
Each participant will take a turn on the machine. Due to the nature of these skills and time on the sewing machine, this workshop is limited to only 5 spots! Reserve yours ASAP.
All materials provided! You will receive a travel sewing kit with needles, thread, buttons, fabric scraps to practice with and to take home.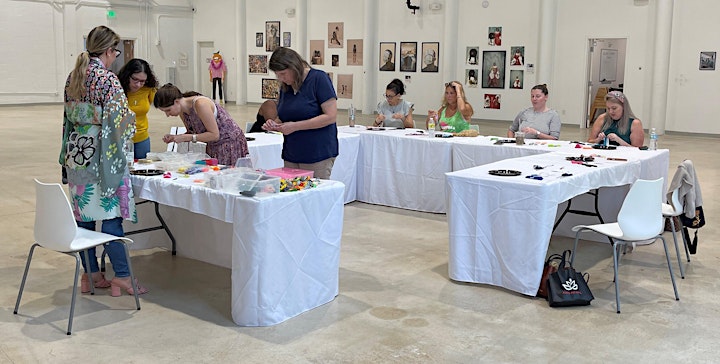 About the artist:
Amanda Perna is a mom, wife & fashion expert who believes in looking beyond the easy road to follow your dreams. While studying fashion design at the university of Alabama, Amanda achieved her dream: a design internship at Oscar de la Renta and the following summer an internship at Calvin Klein.
With an entrepreneurial spirit, at the ripe old age of 19 she started her first fashion brand. Before graduating college, Amanda was offered a job at Calvin Klein, which she gladly accepted and finished her studies a semester ahead of schedule to start living her dream.
Always interested in learning and growing, Amanda furthered her studies at the fashion institute of technology while working as a full time fashion designer. Although she was working her dream job, Amanda wanted more; to own her own business. She wanted to create whimsical, bold clothing and accessories. Against the advice of everyone she knew, Amanda quit her job and started the House of Perna.