Workshop | Intermediate Figure Drawing with a Model
September 21 @ 6:00 pm

-

8:00 pm

$40
Instructor Neal Hanowitz will guide attendees through the steps to achieving Figure Drawing from a Live Model!
Join artist Neal Hanowitz as he guides you through the study and capture of the figure on paper – a centuries old practice! This workshop will be studying from a live nude model.
The instructor will be guiding students in a step-by step manner to scaling the figure onto the page, and techniques to assist with proportions and realistic portrayals, all while encouraging your own style. The workshop will explore quick gestural strokes and short poses, and working towards finer detail and longer poses.
This workshop is great for those that have drawn before, and would like to learn more specifics about capturing the figure on the page. These skills in proportion and drawing can be used across other mediums and subjects as well.
This workshop will be using graphite and charcoal on paper. All Materials will be provided!
* Scholarships available – Please contact Arts Warehouse if you'd like to request a scholarship for this workshop at gdaniecg@mydelraybeach.com
With any questions, contact us!
** Please note, Refunds will be processed only if requested 72+ hours prior to scheduled workshop date/time. No refund will be given if requested less than seventy two (72) hours until scheduled workshop time for any reason. Only one ticket transfer will be allowed per person per workshop type, and will only occur if requested outside of the 72 hour mark of the registered workshop. To request a refund and cancel your ticket, please call 561-330-9614**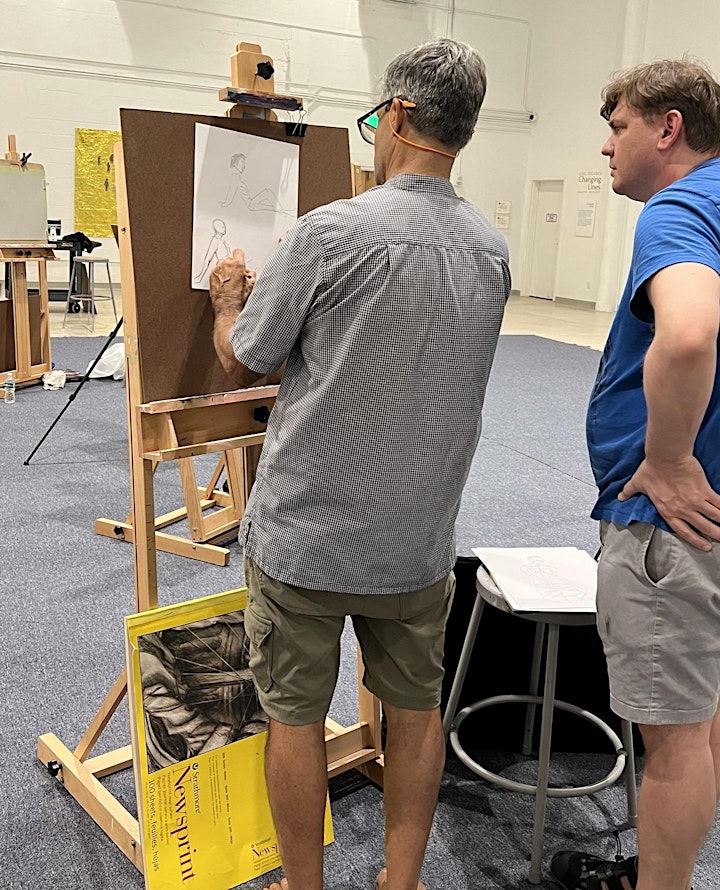 Instructor Biography: Neal Hanowitz, a New York City native has taught a variety of media including painting, sculpture, film animation, and printmaking for the past 27 years. Formal studies at the Pennsylvania Academy of Fine Art and Pratt Institute set a lifetime of art making into motion. He has lived, taught and exhibited in The United States, Switzerland, Zimbabwe, and most recently Myanmar. Now retired and living with his wife, Audrey in Delray Beach, he is slowly becoming immersed in the South Florida arts community.
www.nealhanowitz.com