Workshop | Abstract Exploration in Acrylic Painting
December 7 @ 10:30 am

-

2:30 pm

$180
PLEASE NOTE this workshop is held over three dates:
Day 1 on Thursday, December 7th 10:30am – 2:30pm
Day 2 on Friday, December 8th 10:30am – 2:30pm
This ticket registration and ticket price includes both dates, and all materials except for a canvas. It is recommended that student is able to attend both dates – there will be no makeup dates.
In this two-part workshop, students will learn to activate their intuitive awareness in their painting process. This workshop is designed for the beginner, but also for experienced painters who would like to try a new way of approaching painting. All materials are provided for this course except for an 18" x 24" OR 24" x 24" canvas.
What to expect:
Mark making and gestural forms on smaller pieces of paper in black inks and also color studies, before moving on to the canvas on Day two. The objective is for students to see line, motifs, circles, tilts and angles, squares, and brush strokes. This session is explorative and meant to be kept simple and a time for fun! This will include discussions on composition and principles of design.
Demonstration
The Bricks of Knowledge :
Creating small squares of intuitive marks and style in black
Creating squares of color using intuitive marks and shapes.
Taking time to explore various emotions in mark making
Preparing your Paper or Canvases ahead!
Principles of Design and Elements of Design:
Expressive Marks
Dominance
Repetition
Balance of colors hue, intensity
Values
Texture
Shapes
Value sketches, exploring overlapping shapes to show relationships, and working on larger pieces of paper and also a canvas*. Combining the principles and practice from day one, students will create a large-scale work through experimenting and following their intuition with paint.
Value Sketches
Overlapping shapes to show relationships
Working on full sheets of 140lb watercolor paper or
a canvas not larger then 12" x 24" or 24" x 24"
Applying the information and technique learned on day two and three and working on yupo paper (rather than canvas).
Supplies students must bring:
18″ x 24″ or 24″ x 24″ Canvas of your choice. Any width or wrap OK
Supplies included:
Acrylic Paint or Fluid Acrylic
Mixed sizes of Brushes
White
Black
Small canvas
Your favorites colors too! At least 5 tubes of different colors
Watercolor Pencils and Charcoal pencils to draw with. (OPTONAL)
Paper Towels
Paint Bucket for water (NOT TO BIG)
Possible cut up old watercolor paper with paint on it. used.
Gel medium (small)
Plastic table covers
Mixing pallet knives
Fee covers both dates.
** Please note, Refunds will be processed only if requested 72+ hours prior to scheduled workshop date/time. No refund will be given if requested less than seventy two (72) hours until scheduled workshop time for any reason. Only one ticket transfer will be allowed per person per workshop type, and will only occur if requested outside of the 72 hour mark of the registered workshop. To request a refund and cancel your ticket, please call 561-330-9614**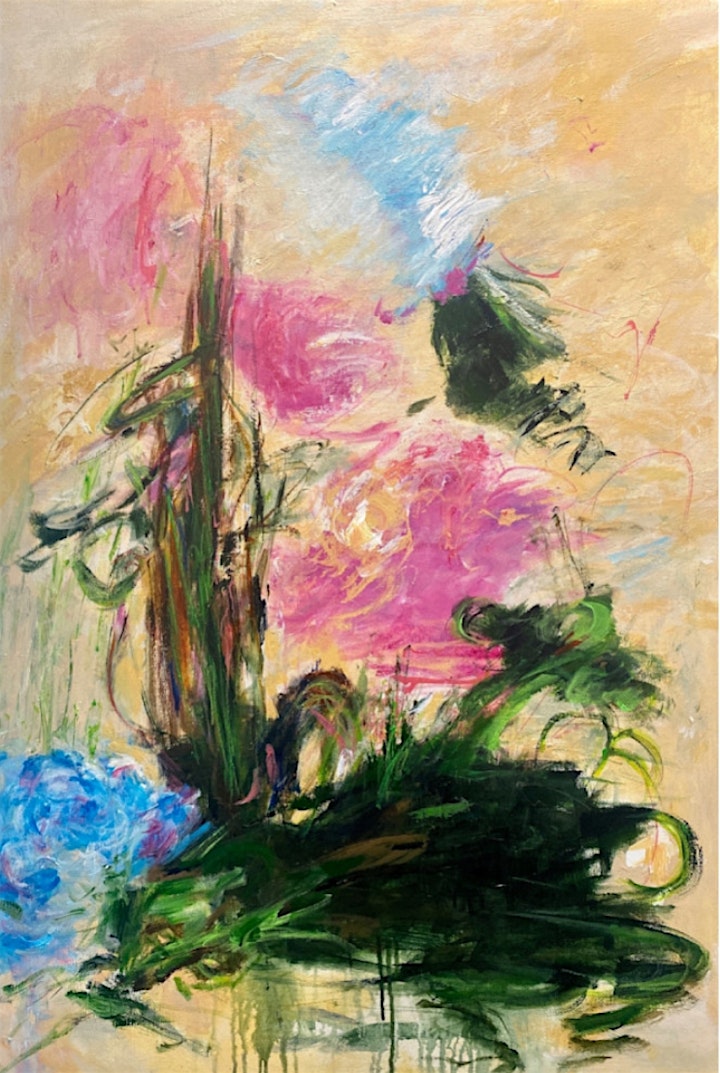 About the teaching artist:
Karen Salup has been teaching in different formats since 1983. Her work unfolds as she composes intuitive images whose references lean to nature. Her intuition developed a vocabulary that consists of idiosyncratic visual poetry through mark-marking. Heavily inspired by prior Abstract Expressionists, Karen follows in creating gestures that bring to the viewer; Form, Texture, Color, and Light.
Although abstract in nature, there is an underlying visual order that gradually emerges. She finds image secondary to process and describes this process as "entering a realm of the unknown" where there is more of a calling than any true direction. Continuously altering and adjusting the core of the painting results in an invisible reality suddenly becoming apparent.It's a self-imposed repetitive process guided by emotional intensity as she builds, erases, and paints the scene. A process that illuminates a definite chaos through the work's shifting inner landscapes. Experience, sensation, and memory color the fluctuating world to ground and fortify an innate sense of place full of subtleties and sensitivities.
Karen is a current Resident Artist in studio 1 a Arts Warehouse.